The Turtle board with integrated LoRa RadioShuttle network protocol allows peer-to-peer communication up to 20 km in the free 868 MHz ISM band. The device can be operated with standard batteries for 10 years. Suitable for industrial use, IOT projects and makers.
Hannover, 4 June 2020
The manufacturer of approved LoRa radio technology solutions, RadioShuttle.de, presents their new LoRa board: the Turtle board.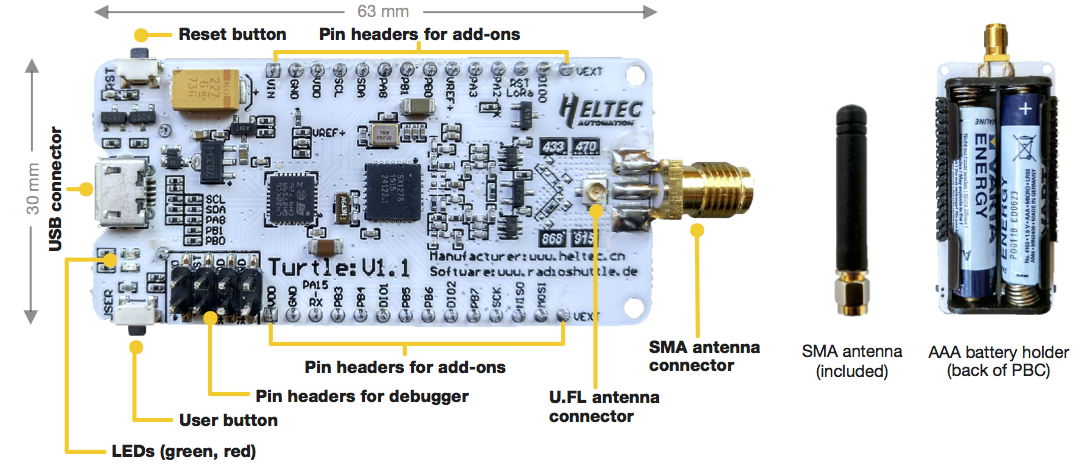 The developers of the Turtle LoRa board managed to develop an extremely small and very economical LoRa board, which can be universally deployed on a turnkey basis. The board is only 63 x 30 mm in size. It runs with LoRa radio technology and standard AAA batteries up to 10 years, achieving ranges of up to 20 km. The included RadioShuttle software allows secure peer-to-peer communication between any number of boards. The solution is optimized for security, long range and economical battery operation.
External sensors or GPIO ports can be used via the extension pin header. An optional Si7021 temperature and humidity sensor and an OLED display (pin-compatible) are available for this purpose. Sensor and display drivers are already included in the RadioShuttle software.
Using the free Arm Mbed C/C++ compiler, the included RadioShuttle software can be compiled and downloaded to the board via USB. A console (virtual COM port) is available via USB – compatible with Windows, Mac, and Linux.
On this basis, own developments, as well as smaller adjustments, can be realized within a very short time.
Key features:
Extremely economical (runs 10 years on AAA batteries)
Range 200 m up to 20 km in the free 868 MHz ISM band
RadioShuttle LoRa peer-to-peer protocol
High security (AES-128, SHA256 encryption)
Power supply via integrated battery holder or externally via USB
(Standard / Lithium / NiMH cells)
STM32L432 MCU, 80 MHz, 256 kB Flash, 64 kB SRAM, RTC clock
SX1276 LoRa chip, optimized for 868 MHz, SMA antenna connector
Extension header (2×14 pins) for sensors, GPI, etc.
ST-Link debugger interface (2×4 pins)
SMA antenna and battery holder included in shipping
Arm Mbed OS – free C/C++ compiler (online / offline IDE)
Optional: MQTT gateway and push notifications (via ECO Power board)
More:
The Turtle Board with integrated RadioShuttle LoRa software can now be purchased in the RadioShuttle online shop. Further information and product documentation can be found at www.radioshuttle.de.